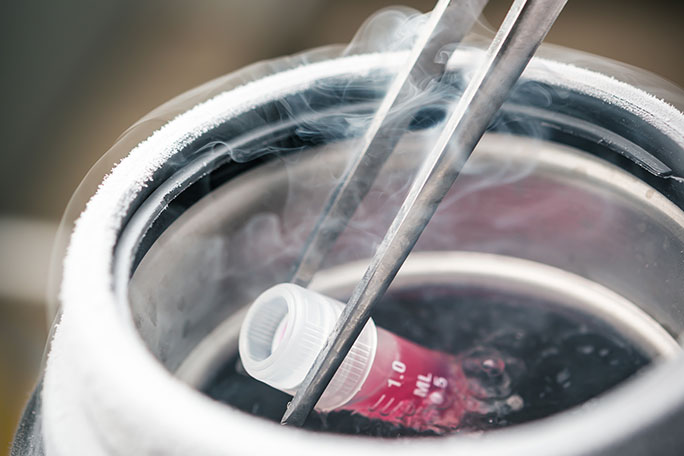 May 22, 2018
To Freeze or Not to Freeze? The Egg Freezing Process is Easier Than You Think
If you're a woman, there are two words that you, most likely, hate to hear – Biological Clock. Especially in terms of "is it ticking louder" and "when does it stop?"
Years ago, the opportunity to shatter the biological clock wasn't an option, but today, women have the opportunity to take control of their future family planning when they freeze their eggs.
Egg freezing offers women a chance to preserve their fertility for the future. The procedure is no longer considered to be experimental by the American Society of Reproductive Medicine.
There have been more than 2,000 live births using eggs that were frozen, thawed and then fertilized, and it isn't a hush-hush topic anymore either. Celebrities such as Sofia Vergara, Olivia Munn and Maria Menounos have been very vocal about freezing their eggs.
Olivia Munn revealed on Anna Faris' podcast in 2016 that she "froze a bunch of eggs."  "I turned 35, then you're high risk," she said.  "I think that every girl should do it.  For one, you don't have to race the clock anymore.  You don't have to worry about it, worry about your job or anything. It's there."
What you need to know about attaining this fertility freedom:
The Process
The egg freezing process takes about two months. During the first month you'll have a series of blood tests and ultrasounds to see if you are a good candidate for freezing your eggs.
During the second month you'll start taking daily injections to stimulate your ovaries, and then have regular ultrasounds and blood tests to monitor their growth.
Egg Retrieval
During egg retrieval you'll be placed under light sedation and may feel a bit of cramping and bloating afterwards. The goal is to freeze around 15 eggs to optimize the chance for success later.
The egg freezing process provides a wealth of medical information.
Between all of the testing and evaluations that are required for the egg retrieval, doctors will be able to give you a very in-depth assessment of your reproductive health and its potential.
Egg Freezing Cost
Freezing your eggs is an investment. Although some companies like Apple and Facebook are compensating their employees for freezing their eggs, most women have to pay out-of-pocket.
The cost to have your eggs frozen is typically around $10,000, and storage fees are usually around $800 a year.
Despite the cost, freezing your eggs may save thousands of dollars in fertility treatment down the road, and to some, the immediate peace of mind is priceless.
Women make the decision to freeze their eggs for a variety of reasons. If they are undergoing cancer treatment, if they want to delay having children until they are more established, or if they just don't want the pressure of that ticking biological clock while they are searching for Mr. Right.
Whatever your reason, freezing your eggs can give you a sense of empowerment, control, relief, and will definitely quiet that tick, tick, tick.
If you are considering having your eggs frozen, contact one of our fertility experts to discuss your options today!